Oakmont Estates II
Please contact our leasing office for rental rates on our various apartment sizes.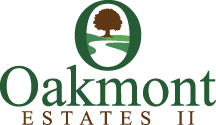 Oakmont Estates II offers you a beautiful and peaceful lifestyle in our newly completed, and thoroughly rehabilitated property in Antlers. Our total rehabilitation of Oakmont Estates II includes new roofs, Hardibacker siding, new landscape work, repair or replacement of parking lots and streets, replacement of all siding, replacement of parking lots and streets, tuck pointing and complete deep cleaning of all brick work, total stripping of all carpeting and tile from the floors and of the interior wallboard for complete re-wiring and re-plumbing. We have also added brand new playground equipment and basketball court plus a beautiful Gazebo for our residents to enjoy. Floors have been replaced by new carpeting and simulated hardwood flooring. Bathrooms have all new cabinets, tubs, stools and other plumbing fixtures. Kitchens feature new cabinets, sinks and all new energy star appliances including refrigerators, stoves, and dish washers plus garbage disposals. Some units will have washer and dryer connections. All rooms will have brand new light fixtures as well as ceiling fans in some rooms. Windows and doors will be replaced with new units. Finally, all central heat and air units as well as water heaters have been replaced with brand new energy efficient units in keeping with our 'Green Building' philosophy.
The rehab work at the Antlers campus began in May of 2014 with completion detail work finishing now at the start of September 2015. Antlers, with its easy access to shopping, restaurants, and your other personal needs, is a beautiful community located in Pushmataha County in the wonderful countryside of South Central Oklahoma, about 160 miles from Dallas, 180 miles from Oklahoma City, less than 60 miles from McAlister and only about 150 miles from all the opportunities and entertainment of the Tulsa area.
Assistance with rent and utilities may be available through USDA Rural Development, Choctaw HUD This project is financed by Oklahoma Housing Finance Agency. Our friendly and service oriented management team is always devoted to your comfort and safety.
Please contact us at 580-298-6143 for an appointment or to ask any questions.
Our address is:
Oakmont Estates II
497 NW 2nd Street
Antlers, Oklahoma 74523
From Highway 3, turn north on either Woodbine or NW E Street and drive a short distance to the entrances of Oakmont Apartments.
Welcome to your new Home at Oakmont Estates II.
Antlers
Oakmont Estates II
497 NW 2nd Street
Antlers, Oklahoma 74523
Ph: (580) 298-6143
Manager: Cricket
About Property