<!– LAYER NR. 1 –>
<!– LAYER NR. 1 –>
<!– LAYER NR. 1 –>
<!– LAYER NR. 1 –>
<!– LAYER NR. 1 –>
<!– LAYER NR. 1 –>
<!– LAYER NR. 1 –>
<!– LAYER NR. 1 –>
<!– LAYER NR. 1 –>
<!– LAYER NR. 1 –>
Hamilton Properties Corporation Receives 2013 Preserve Missouri Award
Monday, May 13, 2013 at 8:12 AM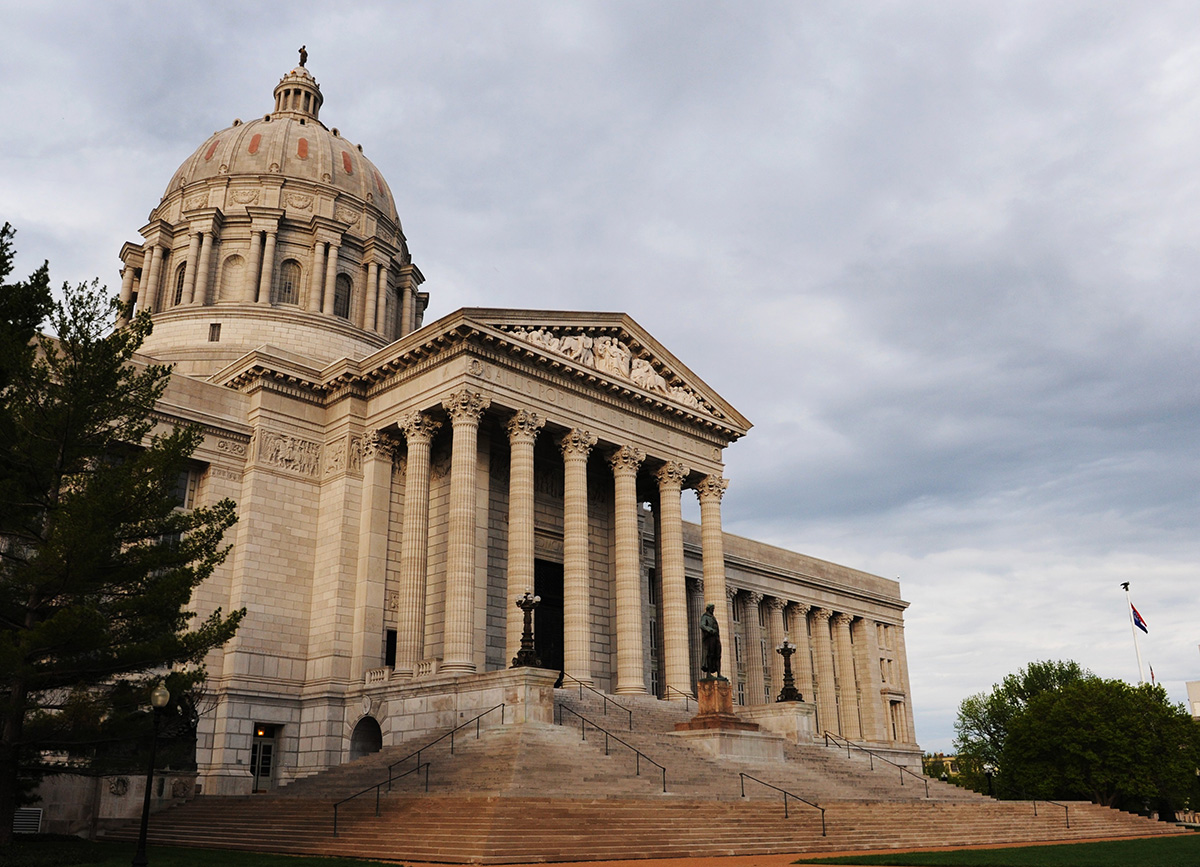 The Missouri State capital building in Jefferson City, the site of the 2013 Preserve Missouri Award ceremony.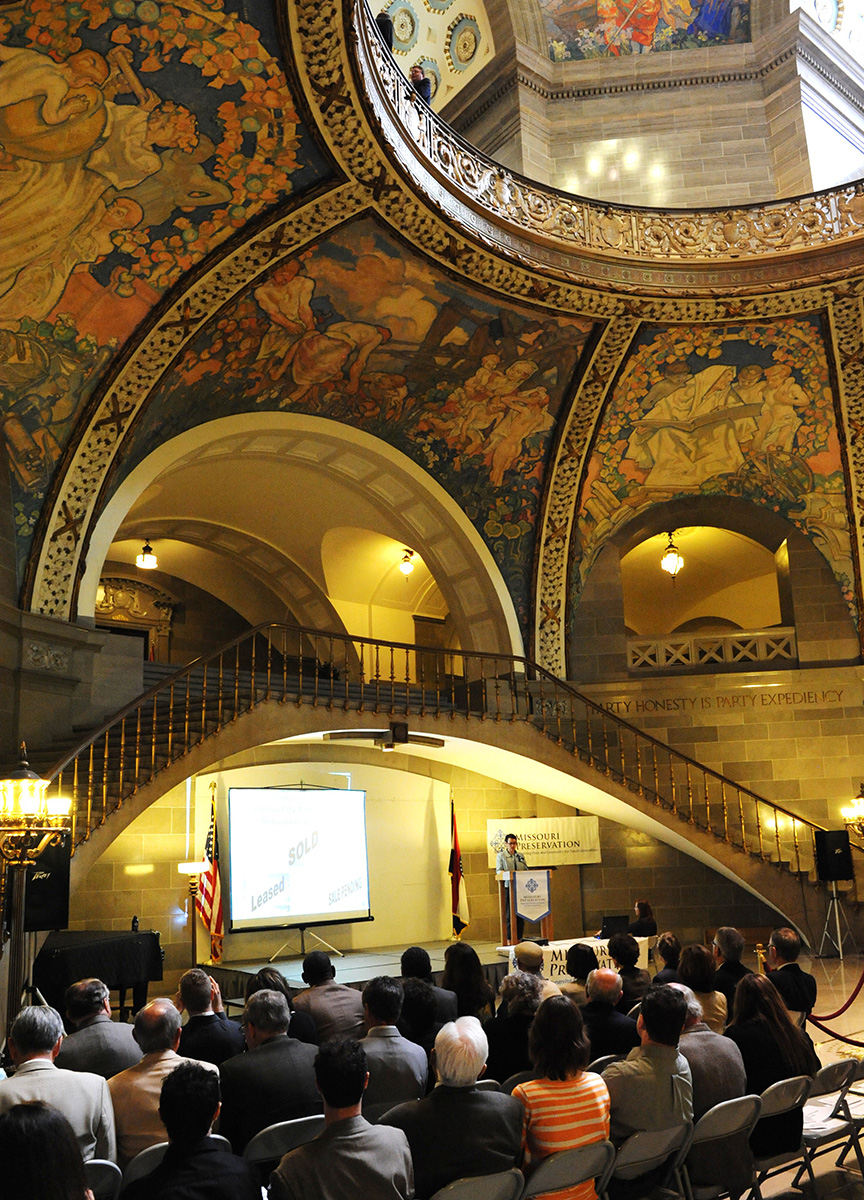 The rotunda of the Missouri State capital building during the awards ceremony.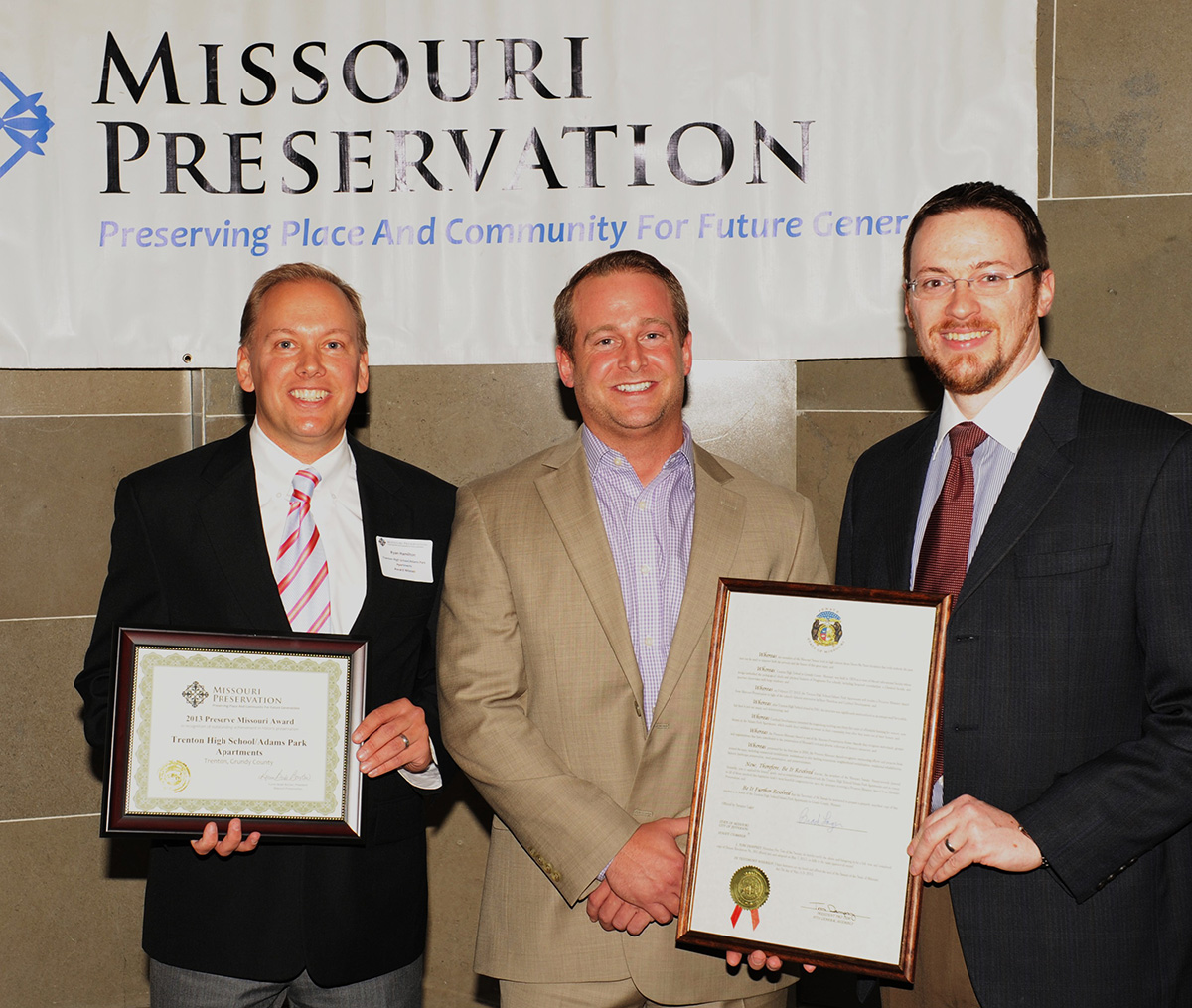 Ryan Hamilton, Vice President and Douglas Hamilton, construction supervisor, along with Mr. Rich Germinder fo the office of Missouri State Senator Brad Lager; display both the 2013 Preserve Missouri Award honoring Hamilton Properties Corporation for their successful conversion and preservation in the Adams Park School project, and a resolution from the Missouri State Senate honoring the Adams Park School project and receipt of the Preserve Missouri Award.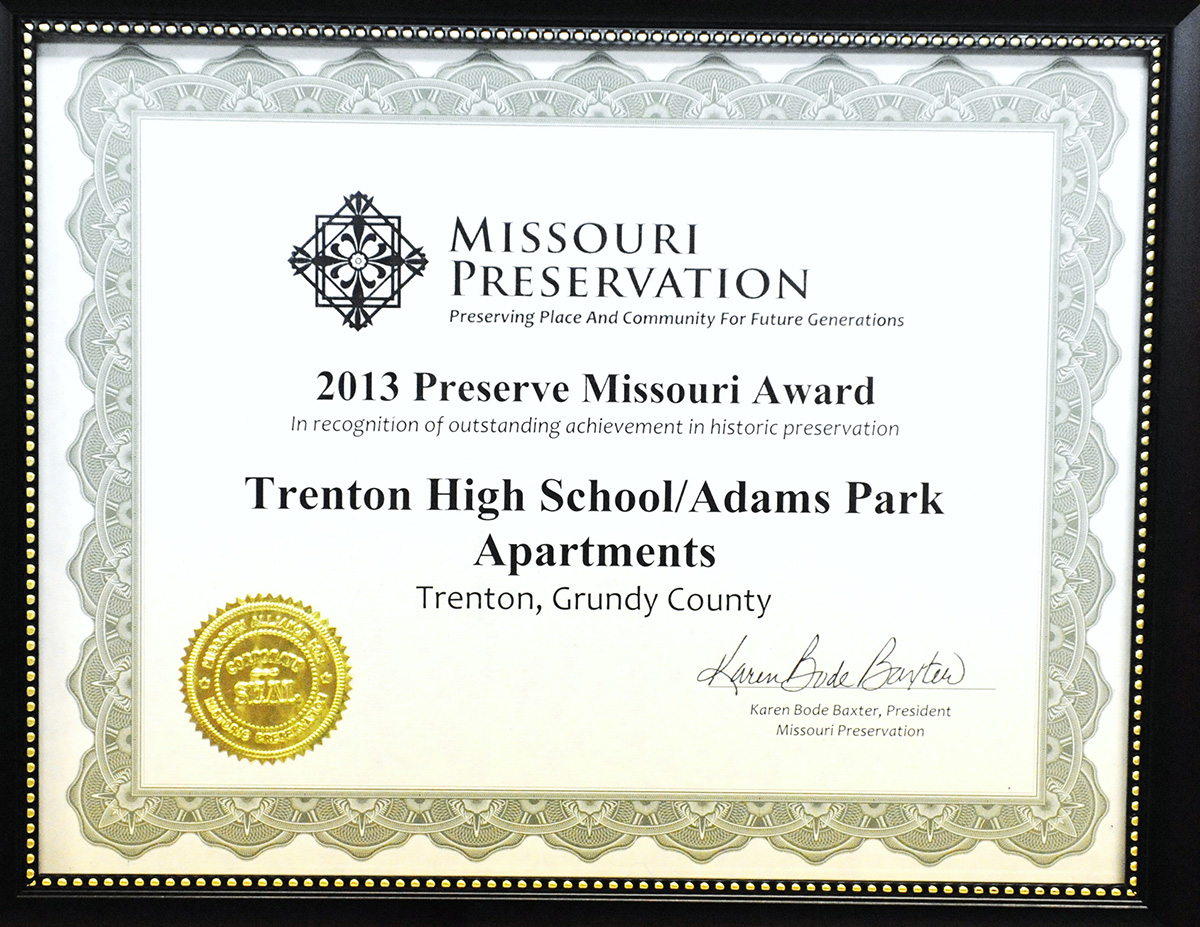 The 2013 Preserve Missouri Award presented to Hamilton Properties Corporation.
Already highly recognized for our adoption of Green Globe building practices in our new construction and rehabilitation projects, Hamilton Properties has now received one of Missouri's highest honors for Historical Preservation practices from Missouri Preservation for our efforts in rehabilitating the Adams Park School building in Trenton, Mo.
The award was presented in an honors ceremony held beneath the rotunda of the Missouri State Capital at Jefferson City, Mo.
The Preserve Missouri Award recognizes outstanding historical preservation efforts and projects around the state of Missouri and illustrates the diversity of historic preservation issues.
Accepting this highly prestigious award was Ryan Hamilton, Vice President of Hamilton Properties Corporation, and Douglas Hamilton, Construction Compliance Supervisor for the Murdoch Construction division of Hamilton Properties Corporation.
Missouri Preservation's motto is Preserving Place and Community for Future Generations, a perfect description for the goals and accomplishments of Hamilton Properties Corporation and it's subsidiary, Cardinal Developers, LLC. for our highly successful Adams Park School project.
Adams Park was once the Trenton High School built in 1924 and had suffered a steady decline after the building was abandoned many years ago in favor of newer classroom facilities.
In a statement from Elizabeth Rosin, principal partner at Rosin Preservation of Kansas City, Mo......"The old Trenton High School is a classic school from the early 20th century. These buildings were designed to meet the ideals of Progressive Era educational reform and dressed in traditional red brick exteriors. Just as school closures can quickly impact the surrounding neighborhood, so too can the adaptive reuse of these buildings. Hamilton Properties did a fabulous job of rehabilitating Adams Park so that it can once again be a vital part of the Trenton community."
Through community efforts, state tax credits, the energies of Ryan and Douglas Hamilton along with many others; Hamilton Properties Corporation and Cardinal Developers, LLC. were able to acquire this still solid and once stately building and then to create the opportunity for 35 senior residents to have beautiful new apartment homes as well as many other amenities within the building such as a community center, large library, auditorium, meeting rooms, exercise center, and private dining facilities for large family gatherings.
In creating this rehabilitation and conversion back to a major community asset, careful attention was paid to preserving and restoring the exterior appearance of Adams Park School and to cautiously preserving interior details such as the majority of the auditorium, the enormous mural about life in the Trenton area, and much of the interior wood work and architecture. Preservation was always in the forefront of thinking while converting this wonderful historical building into it's new life as extremely comfortable housing for Trenton's senior residents.
We at Hamilton Properties Corporation are deeply grateful for the opportunity to contribute to the lifestyle of our residents in the Trenton community and to be able to resurrect this remarkable building for it's new cycle of beauty and usefulness. We are also very proud that this award recognizes our appreciation of Missouri's history and how it's buildings can be returned to a new usefulness for many future generations.