Canyon Trails Townhomes
Webb City, Missouri

We are about to add a tremendous new lifestyle component to the Joplin/Webb City region with the construction of Canyon Trails Townhomes, a fifty-two unit community composed of both duplexes and town homes. Canyon Trails will feature 36-two bedroom homes and 16-three bedroom homes. All will have two bathrooms, vaulted ceilings, fireplaces,washer drier hook-ups, and will include ceramic tile and hardwood floors, security alarms and a storm/safe room. The exteriors will be primarily brick and stone and the community will feature substantial green spaces.
Our 36 units of beautiful two bedroom homes are a spacious 1,050 square feet and will be priced at only $450.00 per month rental.
Our 16 even more spacious three bedroom units, which are 1,150 square feet are priced at only $520 per month rental.
We are now open and invite you to come by to see this state of the art residential town home community.

Our community building will offer computer work stations, a library, a large community tornado/safe room holding up to 65 persons, plus a large work out facility. Resident children will enjoy an extensive on site playground, while the Frisco Trail abuts the property on the west for easy access to the great hiking and biking on that recreational facility.
Green Building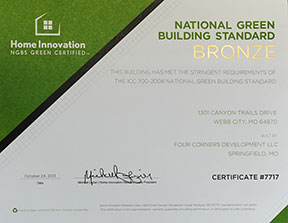 Part of the Green technologies and products that are being used used during the construction of Canyon Trail Townhomes are:
NAHB (National Association of Home Builders) approved ENERGYSTAR appliances including, refrigerators, dish washers, water heaters and heat and air units.
Low Energy windows
Energy efficient Low Flow plumbing fixtures including stools, faucets, and shower heads
Green Certified lumber
Insulation to NAHB standards
Insulated hot water lines
NAHB approved paints
Composite flooring partially composed of recycled materials
Low energy light fixtures and bulbs