<!– LAYER NR. 1 –>
<!– LAYER NR. 1 –>
<!– LAYER NR. 1 –>
<!– LAYER NR. 1 –>
Nixa Heights, Nixa Apartments and Ozark Apartments are now known as Stone Meadow
Tuesday, May 14, 2013 at 4:28 PM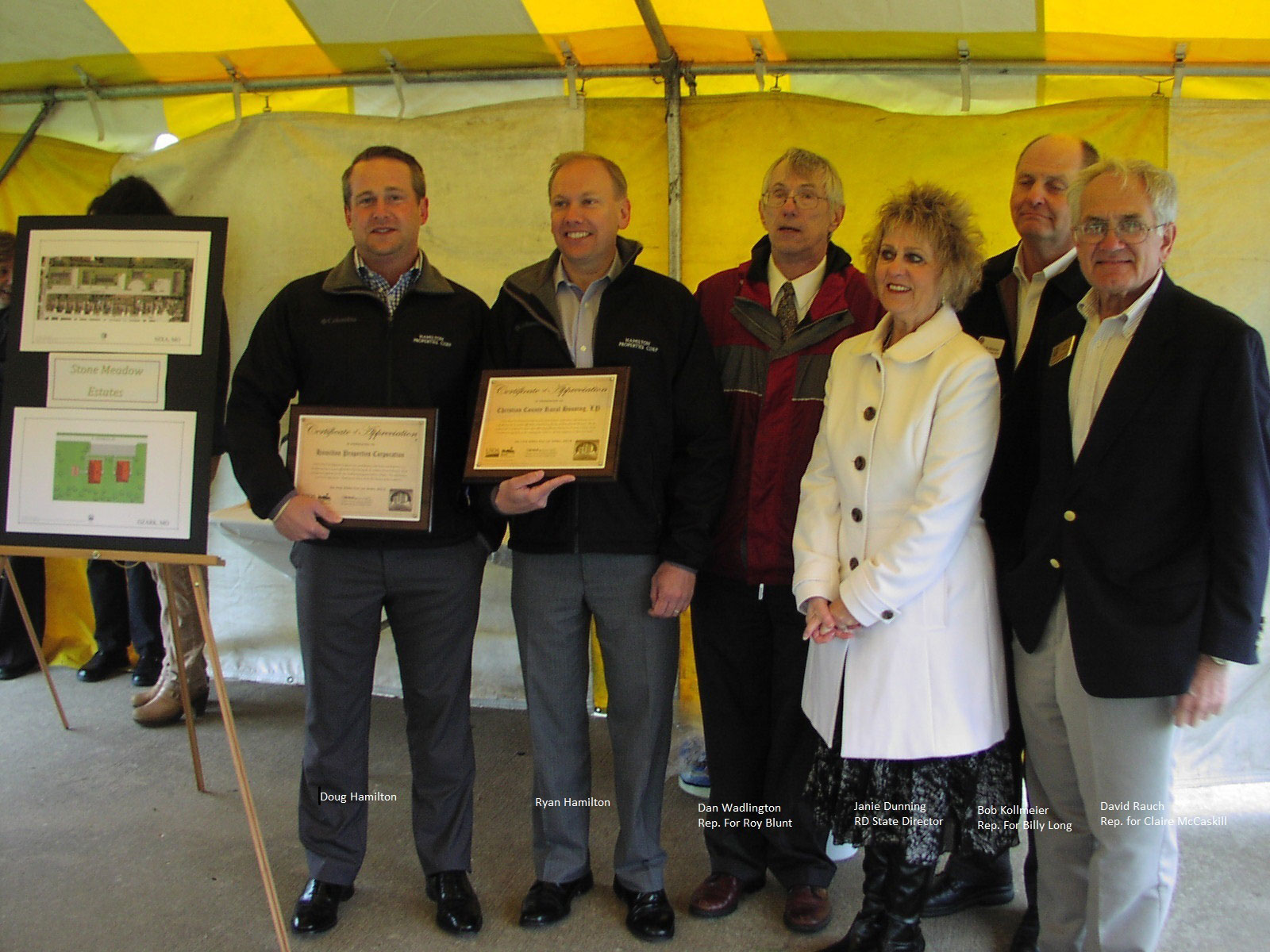 Present at the ribbon cutting for our most recent total rehabilitation project were Hamilton Properties Corporation staff members (from left): Janet Keller Christy Every Barbara Palmer, Connie West Louise Hillhouse, Pat Nordquist, Chris Petrovich, Douglas Hamilton, Janice Owens, Ryan Hamilton, PJ Ikerd, Janie Dunning (Rural Development State Director), Amy Wilson, and Roger Gaston.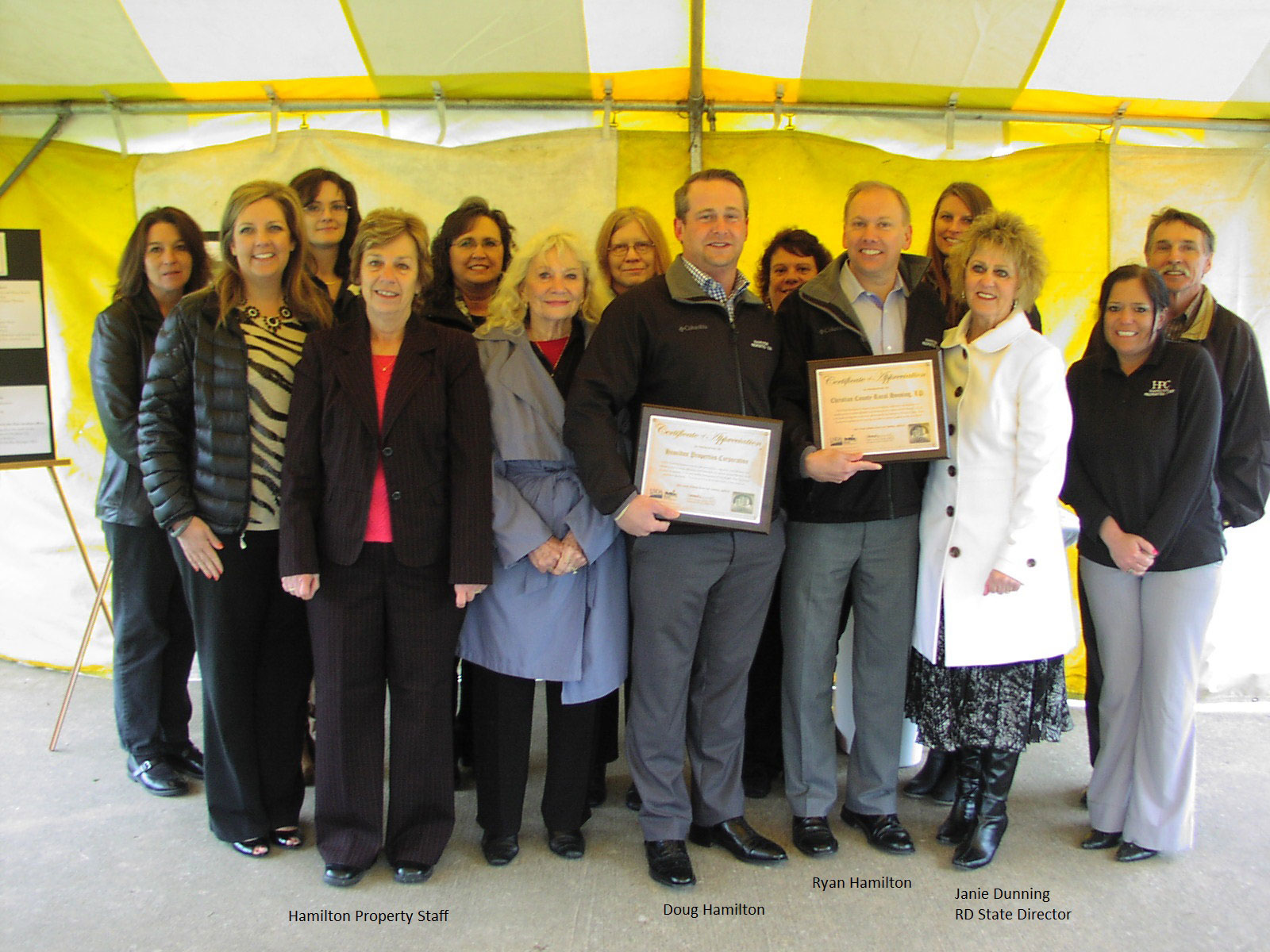 During the ribbon cutting event, certificates of appreciation were presented to Hamilton Properties Corporation and to Christian County Rural Housing, LP. In recognition of their ongoing efforts to provide excellent affordable rental housing in rural areas of Missouri. Douglas Hamilton and Ryan Hamilton accepted these certificates from the following officials..... Dan Wadlington (from the office of Rep. Roy Blunt, Janie Dunning (Rural development State Director), Bob Kollmeier (from the office of Rep. Billy Long, and David Rauch (from the office of Sen. Claire McCaskill).

We are very near the first anniversary of our complete rehabilitation of our beautiful Stone Meadows apartment residences and have added to the lifestyle and appearance of these wonderful homes by adding some extensive new landscaping upgrades for the enjoyment of our residents. Our ongoing commitment to upgrading and continuing upkeep on our properties is very much in keeping with our dedication to creating a wonderful lifestyle for our many fine residents.
On April 28, 2013, we officially united three existing properties into a new limited partnership to allow us to perform extensive rehabilitation and restructuring of all three properties for the comfort and security of our residents.
What were once Nixa Heights, Nixa Apartments and Ozark Apartments are now known as Stone Meadows Estates. This new property consolidation is to continue to be managed by Hamilton Properties Corporation under the ownership of a new limited partnership known as Christian County Rural Housing, LP.
Renovations will include significant upgrades to the exteriors of all buildings plus complete rebuilding of each apartment interior. This will include new electric, heat and air, new kitchen appliances, new walls and flooring including carpeted bedrooms and tile baths and kitchens with wooden flooring in the living and hall areas. It will also include all new plumbing fixtures, and new cabinets.
Construction will be completed by Hamilton Contracting, the construction division of Hamilton Properties Corporation.
Reconstruction is set to begin immediately with a target completion of May of 2014.
Shown here are the two special certificates presented to Hamilton Properties Corporation and Christian County Rural Housing, LP.