Leasing Up Longview
Friday, February 19, 2021 at 5:06 PM
We are thrilled to announced we have just completed construction on both of our Longview properties! Heritage Tower, a historical rehab, and Hickory Trails, new construction, are open and leasing up quickly! We have been welcomed into this community and very excited to offer much needed affordable senior housing.
Heritage Tower is a 36-unit rehabilitated community for seniors, providing one and two-room units within a single six-story building with elevator service. Originally constructed in 1935, the building was conceived at the start of the East Texas oil boom during the depth of the Great Depression when Longview became a center for area commerce associated with the vast nearby oil fields. Additionally, the Texas Historical Commission writes that it is a beautiful local example of Art Deco design. It includes several amenities for all residents to enjoy including: a large common area on the first and second floors. The common area has a lounge area with plush seating and a large TV, a furnished fitness room and an internet café/library. Commercial space on the first floor will be rented to future businesses to further serve our residents. Heritage Tower is located at 208 N. Green Street, Longview TX 75601. Please call 430-201-6150 or email at manager@heritagetowerapartments.com for more information.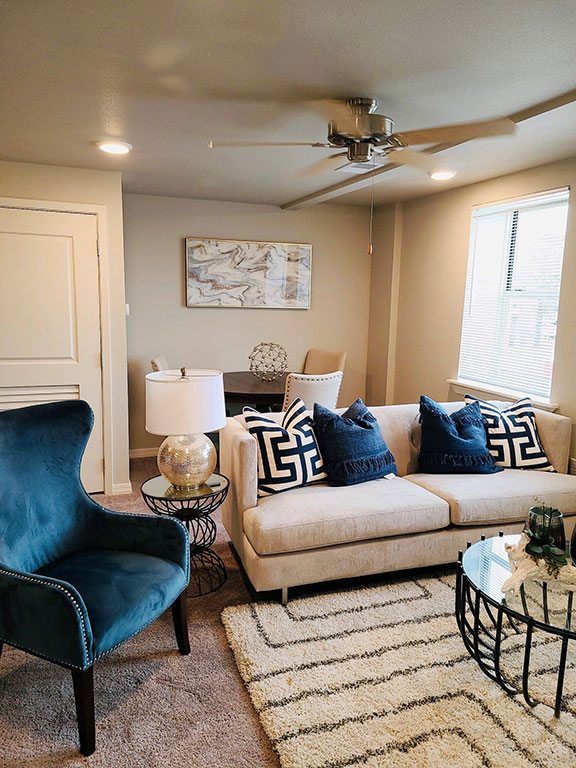 Hickory Trails is a 45-unit community designed for seniors with one and two-bedroom units within a single three-story building. Each unit is equipped with energy efficient kitchen appliances and washer and dryer connections. There is a large common area for residents and on the main floor with spaces dedicated to a lounge area with a large TV, fitness room, kitchen and pantry, internet cafe, and a coin-operated laundry room. Hickory Trails is located at 1805 E. Loop 281, Longview TX 75601. Please call 930-201-5757 or email at manager@hickorytrailsapts.com for more information.
Both developments were made possible by the partnership of developer Four Corners Development, general contractor Hamilton Builders and the Texas Department of Housing & Community Affairs.