Hamilton Properties Corporation Announces A New Round Of Projects
Friday, July 5, 2013 at 8:19 AM
Early summer has brought a round of wonderful new projects for Hamilton Properties Corporation. In addition to our ongoing Canyon Trails Apartments and individual housing project in Webb City, Mo, which is rapidly nearing completion; we have also been approved by the USDA for complete rehabilitation projects at our 60 unit Oakmont Apartments in Tishomingo and Antlers, Oklahoma.
These complete rehab projects will include new roofs, new landscape work, repair or replacement of parking lots and streets, replacement of all siding, tuck pointing and complete deep cleaning of all brick work, total stripping of all carpeting and tile from the floors and of the interior wallboard for complete re-wiring and re-plumbing. Floors will be replaced by new carpeting and simulated hardwood flooring. Bathrooms will have all new cabinets, tubs, stools and other plumbing, while the kitchens will feature new cabinets. sinks and all new appliances including refrigerators, stoves, and dish washers. Some units will have washer and dryer connections. All rooms will have brand new light fixtures as well as ceiling fans in some rooms. New windows and doors will be replaced. Finally, all central heat and air units as well as water heaters will be replaced with brand new energy efficient units in keeping with our 'Green Building' philosophy.
For further details, please see the photographs and read the information below.
Oakmont Estates I & II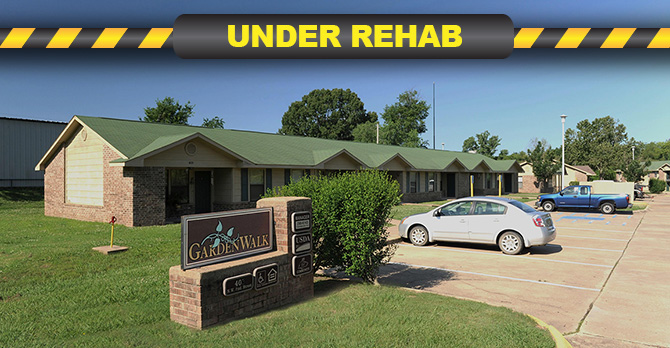 This joint project combines our existing Oak View Apartments in Tishomingo, Ok. with our newly acquired Garden Walk Apartments in Antlers, Ok. to create the renamed Oakmont Estates I and II. Both of these properties will receive the full benefits of a complete rehab so that our residents will enjoy a much more energy efficient, as well as vastly more comfortable lifestyle in what amounts to brand new apartment homes.
The rehab work on both the Tishomingo and Antlers projects is scheduled to begin in January of 2014 with completion expected in August of that year.
Construction Images