Canyon Trails Townhomes Receives The Bronze Award
Friday, January 10, 2014 at 6:31 AM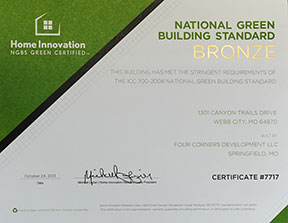 We are proud to announce that Canyon Trails Townhomes has received the Bronze award for outstanding use of Green Building technologies and techniques. Canyon Trails Townhomes is located in Webb City, Mo.
This certified Bronze level achievement, awarded by the Home Innovation Research Laboratories, is based on meeting several stringent criteria. Among those are Lot Design, Resource Efficiency, Energy Efficiency, Water Efficiency, Indoor Air Quality, and Homeowner Education. It certifies that our work on Canyon Trails meets the National Green Building Standards (NGBS) criteria to be in compliance with their rules and guidelines for energy efficient appliances, installations, and materials.

The construction division of Hamilton Properties Corporation has long been an industry leader in the building of outstanding new apartment communities and in the rehabilitation of existing properties that need to be brought up to date.
Our active participation in Green Building standards and techniques at our new and rehab projects is setting a new high standard of lifestyle for our residents, allowing us to provide highly energy efficient living in very comfortable apartment and town home housing.
Green Building includes highly energy efficient lighting, plumbing and appliance installations as well as insulation R values and other materials choices to make our apartment homes a tremendous life style value for our residents across the country.